H.A. Sala - White Collar Defense Attorney in Bakersfield CA. If you are charged with a White Collar offense in Bakersfield CA, contact the Law Offices of H.A. Sala. (661) 322-1708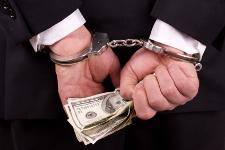 White collar crimes usually involve theft and deception such as tax evasion, insurance fraud, counterfeiting, credit card fraud, computer fraud, embezzlement, money laundering and campaign finance violations.
White collar cases are usually more complex because the investigation doesn't merely consist of a police officer surveilling criminal activity, but rather government investigators reviewing voluminous bank and accounting records to make a case.
For most people accused of white collar crime, this marks their introduction to the criminal justice system. It's frightening because most of these crimes are classified as felonies and the government is seeking a large fine or a prison sentence.
Often, the prosecutor's case is dependent on the intent of the accused. Mr. Sala and his defense team has substantial experience in preparing a viable defense for his clients, particularly concerning the issue of whether criminal intent can be proved.
If you are suspected of a white collar crime, protect your legal rights. Never talk to a government official or answer questions until you have consulted with an attorney who is experienced in defending white collar crime. Contact the Law Offices of H.A. Sala today.